Kids can be creepy at times. And your own kid can say something that would be the creepiest thing you ever heard. Where do they learn from? What do they have in mind? Like you, we have no idea.
Advertisement
Here we compiled plights of 30 parents who are haunted by the creepy words uttered by their own kid. Some of them seem to be the words of Satan himself. Go figure!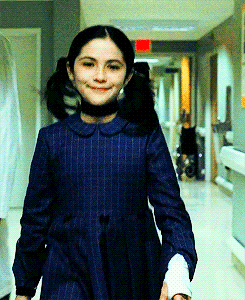 #1
When my cousin was two, her mom got pregnant again. One day she went to hug her mom's belly and said, "Little brother sick". A few days later she had a miscarriage.
#2
My 6-year-old daughter was in the passenger seat a few days ago and looked at me and said, "Dad, when I'm seven I'm going to kill you. No wait, when I'm eight." I asked, "How are you going to do that?" She smiled and said, "I'm gonna drive over your head with this car."
#3
My 3-year-old daughter was in the bath playing with her toys with me and laughing. Suddenly her face deadpans, she looks me in the eye, and tells me in a serious little voice, "Mummy, if you bit and ate all my fingers off I wouldn't love you anymore."
#4
My then 3-year-old daughter walked downstairs in the morning and said, "Look what I can do!" and she crossed her eyes. I asked her how she learned to do that and she said, "The boy taught me at night."
Me: "What boy?"
Her: "The boy with the glasses.. he did this!" And she held her finger up and zoomed it to her nose and crossed her eyes.
She said he laughed and laughed.
Not too scary, right? Only…. that's how my brother taught me to cross my eyes when I was 5 years old. He died when I was 7.
#5
My four-year-old son said, "Daddy, I want to drill into your tummy, crawl inside and eat your dinner." The food was ok but I didn't think it was worth that much effort.
#6
When my son was small, I was talking to him about growing potatoes. I described how you bank up the earth around them as they grow, and he said, "I used to do that when I was an old man."
#7
Not a parent, but a former teacher.
I taught English in a school in Spain, and I wasn't supposed to let the kids know that I speak Spanish so that they were forced to communicate in English. A 10-year-old girl comes up to me one day, grabs me by the hand, and says, with the most horrifying, straight face ever, "Te vas a la muerte", or "You're going to die."
I was so shocked at the randomness of it that my jaw must have dropped. She then laughed her head off and said, "HA! You DO speak Spanish!" She then skipped away, laughing and smiling.
Creepiest thing a kid has ever said to me. And probably the most clever thing a kid ever did while I was a teacher.
#8
My mother-in-law was picking my son up from school because I had some things to do. She was supposed to just drop him off (I really dislike that horrible woman), but instead he comes running through the door and yells, "Daddy I invited grandma for dinner."
#9
I was explaining to my niece the difference between things that can and can't change about people. She was confused because she'd met a set of three siblings and the eldest wasn't the tallest.
So I told her that one day even SHE, an itty bitty four-year-old could be taller than me, a big huge grownup. But even if she was taller, I would always be older.
She looked me very seriously and said, "You'll be dead sooner too."
#10
"When you turn off the lights, that's when the black circles come. They come down like this (holds his hands in the air above his bed), and they stay for a second, then zoop! they go inside! (slapping the hands to his chest)."
Then, barely holding back tears, "I hate it."